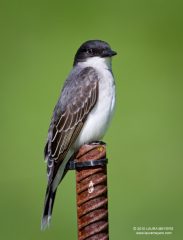 The picture of this Eastern Kingbird was taken in
Prospect Park
May 20, 2010. Since this Eastern Kingbird was out in the open on a post with a field of grass behind it with really good light, this picture basically shot itself. The challenges that I experience wth the CANON EOS7D disappear when all of the good shooting elements are in place. My only concern is to get as close to the bird as I can without having it fly off. In this case it was within 10 feet of this Eastern Kingbird.
After shooting this picture with the CANON EOS7D in RAW, I do some processing in Adobe Lightroom. I have found that the pictures come in very soft and by using the sharpening tools in Adoboe LIghtroom first makes a big difference. I now rarely use the Clarity and Vibrance tools as they tend to introduce more noise.
I bring the bird picture into Adobe Photoshop CS3 for more editing and sizing and preparing for internet and in this case I go back to Adobe Lightroom and use the vignetting tool to add a small postcrop vignette.