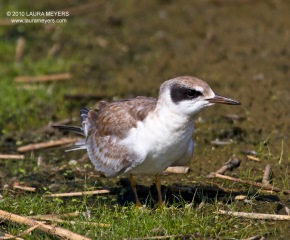 The picture of this juvenile Forster's Tern was taken at the Jamaica Bay Wildlife Refuge. The Shore Bird migration is in full swing at the Jamaica Bay Wildlife Refuge. I am looking forward to the annual Jamaica Bay Wildlife Refuge Shorebird Festival August 14, 2010
The picture of this Forster's Tern (juvenile) was taken with the CANON EOS7D with the CANON 100-400mm lens.
At the time, this appeared to be the only juvenile Forster's Tern on the south side of the East Pond at Jamaica Bay. It looked very lost to me espeically among the flocks of sandpipers that were abundant that day.