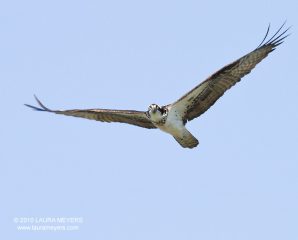 The picture of this Osprey in flight was taken at the Rye Marsh Conservancy in Westchester, New York. All but southernmost populations of Ospreys are migratory, vacating their breeding grounds in late summer for rain-forest rivers and fish-rich seacoasts and lakes of Central and South America, returning north each spring as waters warm and fish become accessible.
This picture was taken with the Canon EOS7D with the Canon 100-400 mm lens.
It was wonderful to visit the Rye Marshlands Convervancy. It is wonderfully maintained and very quiet. The path through the marsh got me very close to the birds for photography and I loved the feeling of being surrounded by the marsh. The walk through the fields was great for macro photography. I saw more dragonflies here than any other place I have been.