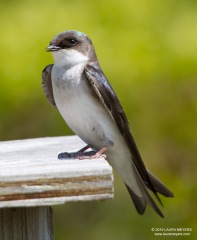 Being in the presence of The Tree Swallows at Jamaica Bay Wildlife Refuge is among my most favorite visual experiences. The constant activity of these birds flitting around chasing insects and each other is totally delightful to me. And also watching the Tree Swallows go in and out of their nesting boxes and seeing their little heads peeking out.
And now a juvenile!
They also do stay still for a few moments to allow me to get some good captures. Again I was able to take my time to set up the camera settings properly and enjoy using my CanonEOS7D instead of feeling like I am in battle with it.
I started to focus with the manual focusing ring on the CanonEOS7D after the auto focus did its thing. I could see the image coming into clearer focus.