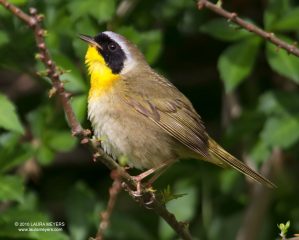 The picture of this Common Yellowthroat Warbler was taken in Prospect Park, Brooklyn, NY. I am more consistently using the multi point focus mode on the CANON EOS7D and have been getting much sharper results than with the single point. Also I have been moving the center focusing point to suit the picture more often.
It takes a bit on finger gymnastics to coordinate the focusing selection but it is starting to move into my muscle memory.
It is really great to be able to focus on the eye of the bird and not be concerned about losing the rest of the bird as I did with center focusing.
And so far the most best part of the Canon EOS7D for me is the 18 megapixels which allows me to crop the shot alot and still have a respectable image size.