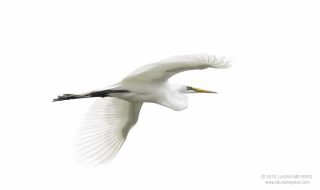 The picture of this Great Egret was taken at a Nature Conservancy in Southampton, NY June 5, 2010. I am really enjoying the effect of having the bird against a white sky and desaturating the "noise" to create a more "artistic" style. It is hard to go wrong with a good capture of a Great Egret in Flight.
Instead of fighting the noise from my CANON EOS7D with the 100-400mm lens, I am starting to really enjoy working with it – at least in this type of capture.
A couple of days this week I put the CANON 70-200mm lens on the CANON EOS7D and the results were so very different. I will include some of the pictures in some of the next posts.