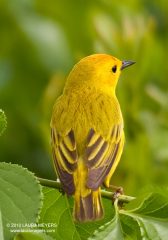 The picture of this Yellow Warbler was taken at the Jamaica Bay National Wildlife Refuge. As a result of the lesson I took with Lloyd Spitalnik this past week, I have learned how to work more carefully in Adobe Lightroom and Adobe Photoshop when processing my pictures. The main emphasis is to clear up the noise issues that I have with many of my pictures taken with the CANON EOS7D and to sharpen properly.
I have been using Noise Ninja – but I now will use it as early as possible when processing the pictures in Adobe Photoshop. As for the sharpening, I was using the smart sharpen option in Adobe Photoshop but was not cranking it up as much as I could. Of course it totally depends on the picture. The main culprit for me as far as the noise is the very light whitish area where the noise is most apparent.
The colors and the capture of this picture made is suitable for alot sharpening.