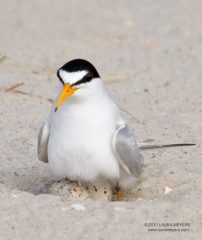 The picture of this Least Tern with eggs was taken at Nickerson Beach, Lido Beach, NY.
One of my most favorite wonders when taking digital pictures with my Canon 100-400 zoom lens is the ability to see so many of the details of the animals. When I took this picture of the Least Tern, I had no idea that the bird's eggs were showing.
I am not sure which is more rewarding being out in the field taking the pictures or going through them on the computer and making wondrous discoveries such as this.